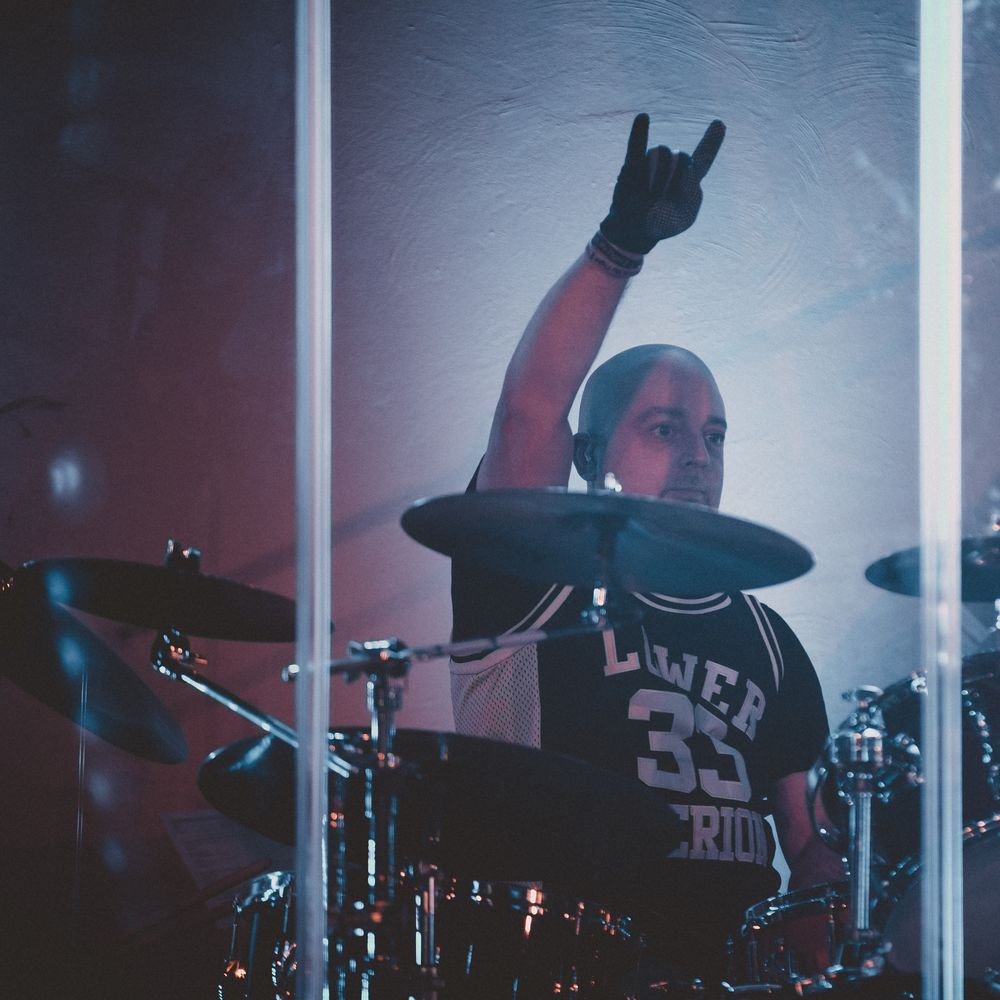 Joel Chodoroff
Owner/Booking Agent/Drums/Vocals
Education:  Joel attended Council Rock High School and then went to Temple University where he received both his Bachelors and Masters Degrees in Music Education.
Musical Bio:   Growing up in a musical family, Joel began playing piano when he was in 2nd grade and then became a drummer at the age of 11.  Prior to starting Class Act, Joel spent 20 years playing in various wedding bands (specifically The James Renaldo Orchestra and Dave Gustafson and The All-Love Orchestra) and performing at numerous venues in the Tri-State Area.  Joel also has played and recorded with several local rock bands (The Mango Men and Primadonna), and stayed active as a musical theater drummer.  A career highlight is having the opportunity to open for Kenny Chesney, Keith Urban, Lee Ann Rimes, and Sammy Hagar at Lincoln Financial Field.  He has also had the opportunity to open for The Four Tops in Atlantic City.
Day Gig:  Director of Bands at Holicong Middle School (Central Bucks School District)
Family/Hobbies:  Joel and his wife have 4 children and reside in Perkasie, PA.  When not teaching, drumming, or spending time with his family, Joel is a "4 for 4" Philly sports fan and a HUGE fan of anything that involves Shemar Moore.  He is also an avid reader and enjoys crime fiction/police procedurals.
Favorite Musical Artists:  In what can only be described as "eclectic," Joel's  favorite musical artists are Metallica, The Temptations, and a tie between The Zac Brown Band and Dream Theater.  The Dave Matthews Band is also up there as well.  He is a huge fan of all things "classic Motown" and also enjoys going down the "Apple Music rabbit hole" to find new bands/artists to check out.  Joel lists Dave Weckl, Buddy Rich, Lars Ulrich, and Carter Beauford as just a few of his many drumming influences.
Fun Facts:  Joel spent 6 summers playing drums for the Busch Entertainment Corporation.  This included 4 summers at Sesame Place and 2 summers at Busch Gardens (Williamsburg).  Oh, and he has a SLIGHT obsession with Shemar Moore...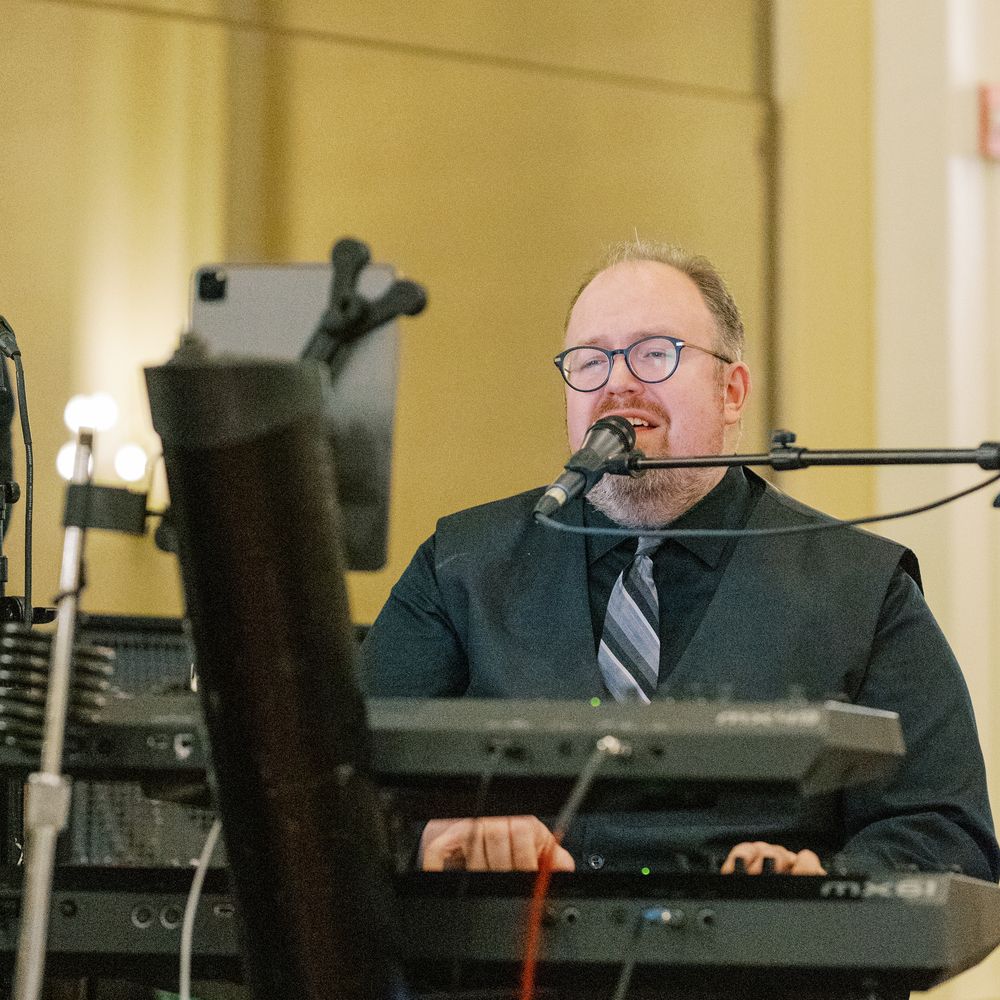 Jim Glaser
CA Musical Director/Keyboards/Vocals/Guitar
Education:  Jim is also Bucks County born and bred, growing up in Richboro, PA and graduating from Council Rock High School.  He is a proud Penn State grad with a bachelor's degree in music education (with trombone as his primary instrument?!), and he has his Master's in Music Ed from University of the Arts in Philly.
Musical Bio:  Jim has been pounding on the ivories all the way back to his days as a toddler in his family living room when he referred to the instrument as the "pee-an-ee-oh".   Singing has always been part of Jim's life, too, from singing along to Sesame Street and The Muppets to church choirs to school plays to exploring his mom and dad's record collection.  Over the years, he picked up drums, euphonium, trombone and guitar, and participated in every possible music ensemble through his schooling, including two appearances in PA All-State Jazz Band.  Once he arrived at Penn State he was "thrown into the fire" as a jazz pianist jamming with staples of the central PA music scene like the Dan Yoder Quartet, Chris Byrne Trio, Urban Fusion, Charlie Van Horn Big Band, The Screaming Ducks and more.  He's played professionally with jazz artists like Tim Warfield, George Rabbai and Conrad Herwig among others.  Jim also loves directing contemporary worship music and has been doing so regularly for the past several decades. Class Act is the fulfillment of a childhood dream to play music that he loves in a great pop/rock band with great friends!  
Day Gig:  Jim is the longtime choir director at Holicong Middle School in the Central Bucks School District.   He's a part of the team (along with Joel and Ian) who organize the annual CB Save The Music charity concerts.  
Family/Hobbies:  Jim lives in Levittown with his wife and their newest addition, Reese, a goldendoodle!   The Glasers spend a lot of evenings on the couch enjoying their favorite shows and movies.  Jim loves to play golf and tennis, but his favorite hobby is disc golf!  He's also a bit of a collector, especially when it comes to sports memorabilia and autographs for the five Philly teams.  Other pop culture obsessions include The Muppets, Friends, Ted Lasso, Star Wars, The Big Bang Theory and Game Of Thrones.
Favorite Musical Artists:  James Taylor, Billy Joel, Kurt Elling, John Mayer, Stevie Wonder, Chris Stapleton, Huey Lewis & The News, Kenny Garrett, Audrey Assad, Jacob Collier, Elevation Worship, Weird Al Yankovic, Kanye West, Snarky Puppy, Bela Fleck & The Flecktones, Miho Hazama 
Fun Fact:  At the height of the late 90's "neo-swing" revival, Jim played and sang in a band that got to perform for a swing theme hour at the Penn State THON (dance marathon) in one of the last years the event was held at Rec Hall before it moved to the Bryce Jordan Center.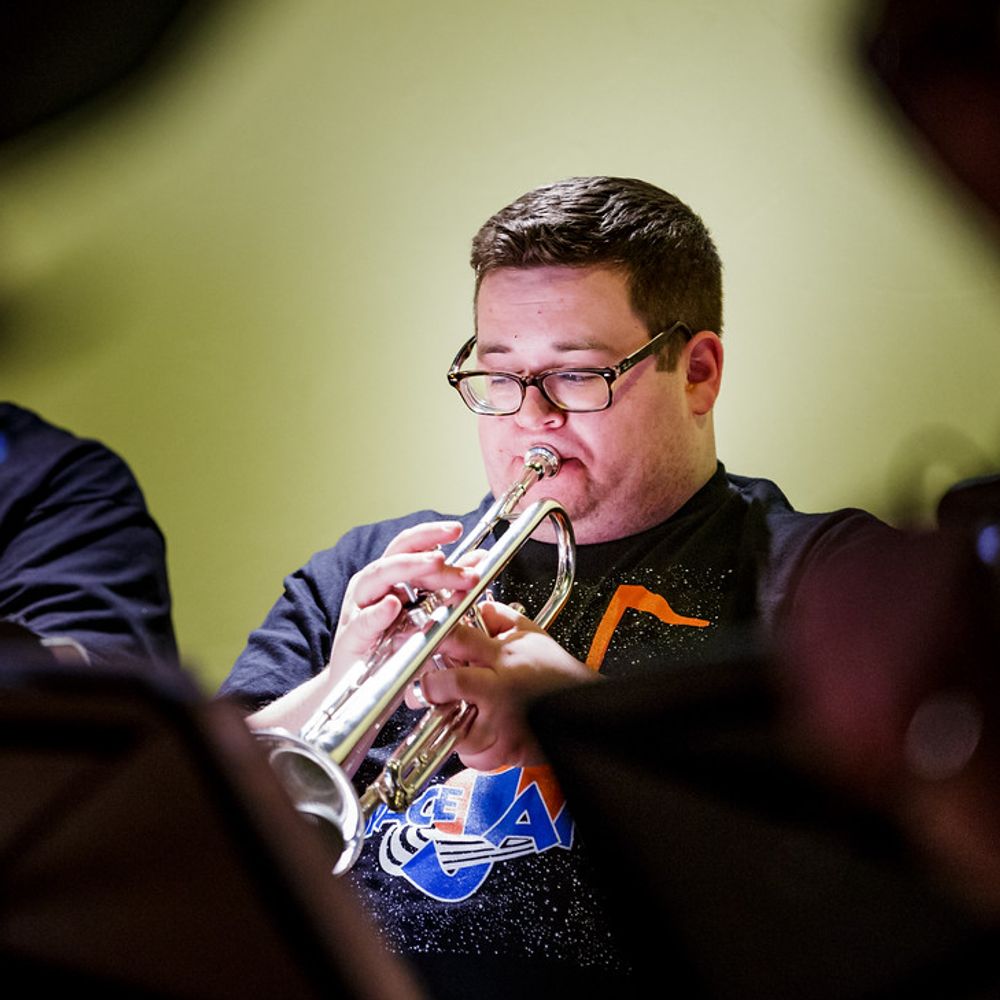 Mike Feher
Trumpet/Sound
Education:  Mike attended Central Bucks East High School and then went on to attend Bloomsburg University.  He graduated with his degree in Audio and Video Recording.
Musical Bio:  Mike has been playing trumpet, as well as various other instruments, for over 20 years. He has performed in various cities including Chicago, San Antonio, Washington D.C., and New Orleans. Mike's favorite venues Class Act has performed in are the Fillmore in Philadelphia and "that barn we played that one time"...
Day Gig:  Store Manager, Music and Arts in Doylestown
Family/Hobbies: Mike enjoys listening to records, and following the Flyers, Phillies, and Eagles. He also enjoys spending time with his parents, his two brothers, his sister in-law, and his niece.
Favorite Musical Artists:  Mike enjoys all types of music including Bruce Springsteen, Vulfpeck, Theo Katzman, Bon Iver, Jason Isbell, Childish Gambino, and Kendrick Lamar.
Fun Fact:  Mike's favorite Philadelphia athletes of all time are Carlos Ruiz and Claude Giroux.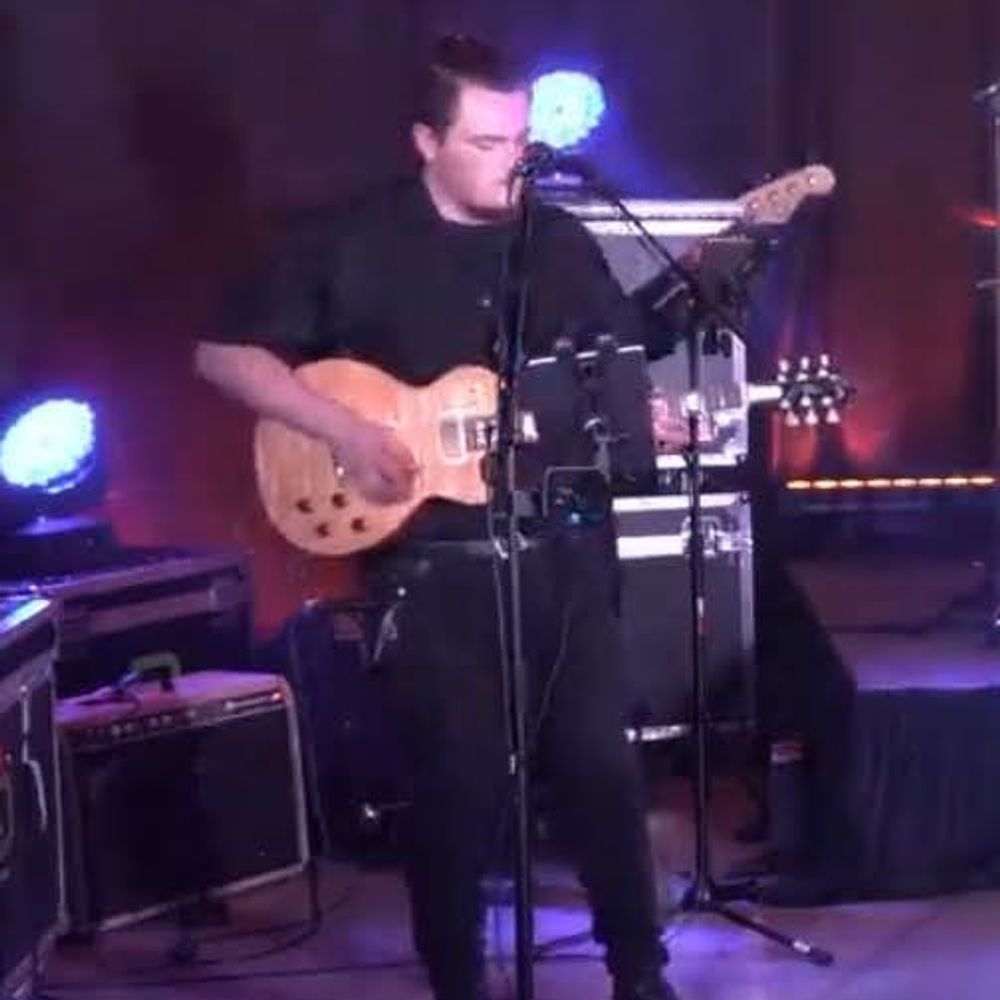 Justin Jones
Guitar/Vocals
Education:  Justin went to Central Bucks East High School and began working as a full-time musician upon graduation.
Musical Bio:  By the age of 19, Justin had already taken his talents on tour around the country while playing with various bands.  While on tour, Justin has the opportunity to share the stage with such acts as Andrew W.K., The New York Dolls, Charli XCX, Bad Brains, and The Toasters.
Day Gig:  Full-time gigging musician and session musician
Family/Hobbies:  Justin and his wife have one child, and he enjoys spending his free time playing with "the kiddo" and their dog.  He is also an avid gamer.
Favorite Musical Artists:  Justin's "Musical Mount Rushmore" would include The Beatles, The Ramones, Reverend Horton Heat, and Metallica.
Fun Fact:  From 2004 - 2007, while at Holicong Middle School, Justin was a student of Joel, Jim, and Ian!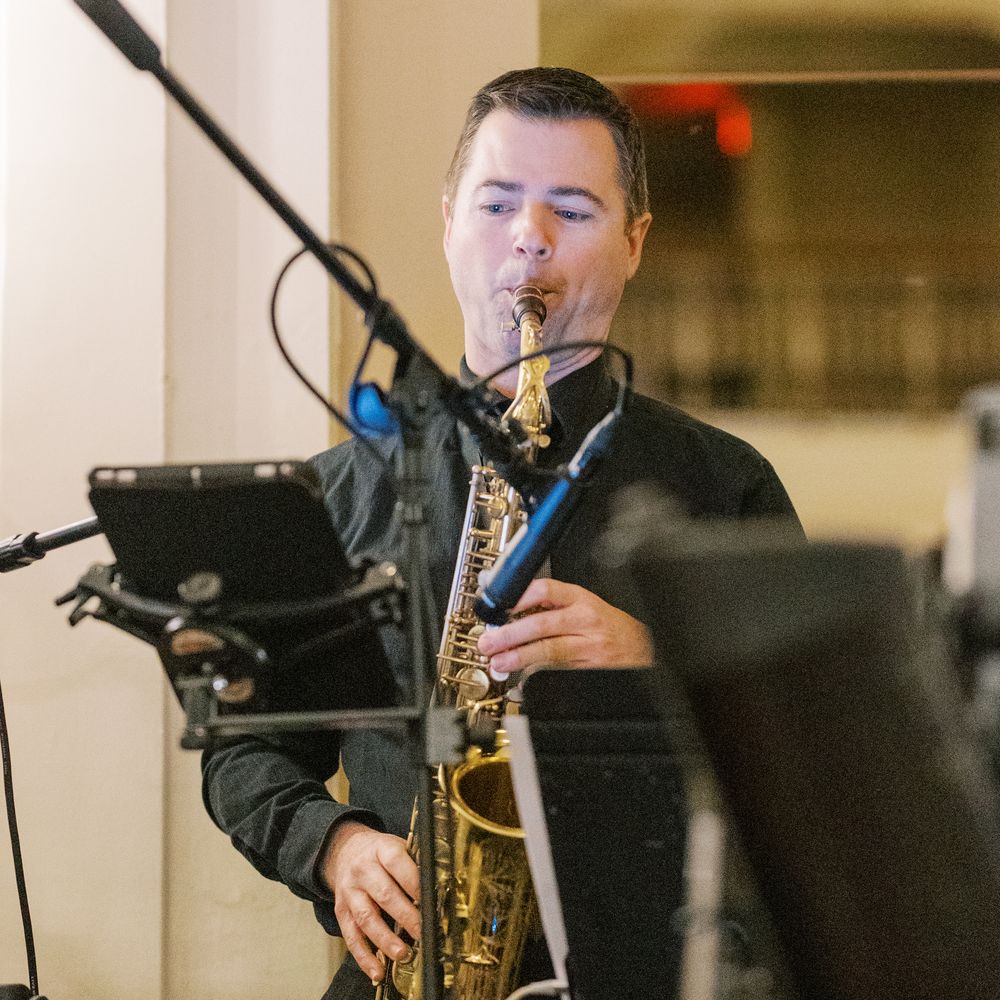 Mike Robinson
Alto Saxophone/Vocals
Education:  Mike attended Upper Moreland High School and then went on to attend Lebanon Valley College where he got his BA in both Music Education and Music Performance.He then received his Masters Degree in Music Education from Duquesne University.
Musical Bio:  Growing up, Mike enjoyed performing in a contemporary worship band in Southampton, PA/  This was the first time he would jam with Class Act's keyboard player, Jim Glaser. While in college, Mike was a member of the Bobby Mercer Road Show Big Band based out of the Reading and Lancaster areas. He also performed with the funk band Superphat, who called Harrisburg home. Post schooling, Mike has played with local jazz musicians in the Doylestown area. Currently, Mike is proud to be a member of Class Act helping people have fun one party at a time!
Day Gig:  Mike is currently an elementary band director in the Central Bucks School District. Previously Mike taught high school band at Central Bucks South High School in Warrington, Pa. 
Family/Hobbies:  Mike is happily married with two children and resides in Sellersville, PA. When not working or playing, Mike enjoys gardening, reading, and going on camping and beach trips with his family. 
Favorite Musical Artists:  Needing to break this down into categories, Mike lists his favorite sax players as Cannonball Adderley, Kenny Garrett, and Paul Desmond.  He also enjoys progressive rock bands like Pink Floyd and Dream Theater, and his favorite classical artist is John Adams.
Fun Facts:  Mike enjoys learning about money, financial education, real estate, the economy, and geopolitics.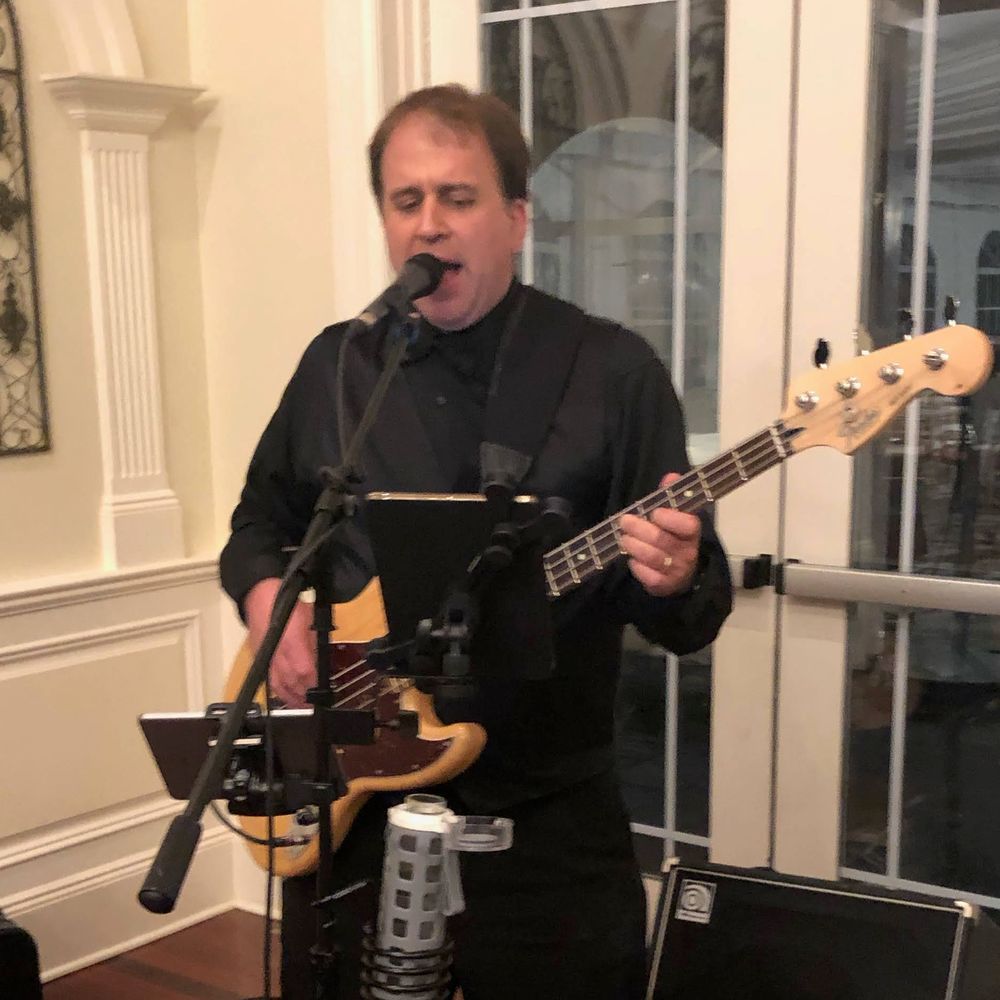 Ian Sanchez
Bass/Vocals
Education:  Ian attended Carthage Central High School (Carthage, NY) and then attended The University of Rochester where he received his Bachelors Degree in Music.  He also received his Masters Degree from The Eastman School of Music.
Musical Bio:  Ian has been singing since childhood and was fascinated by harmony from an early age.  He would realize that music was his true calling during his junior year of college and wound up switching majors to Music Education.  Ian also loves singing, directing, and arranging contemporary a cappella music.  He has had the opportunity to perform with his college a cappella group in the East Room of the White House during holiday tours and sing an original song about a reading program at a national education conference.  Ian was also in a featured quartet with the Detroit Pops Orchestra under conductor Erich Kunzel and has composed music for a Rochester (NY) business tourism video.  Ian originally picked up the bass guitar in order to supplement the keyboard (Jim Glaser) and drums (Joel Chodoroff) in the Holicong Middle School "House Band" circa 2003.  He is also on the leadership team, along with Joel and Jim) for the Central Bucks Save The Music charity concert.
Day Gig:  Ian is the choir director at Tamanend Middle School (Central Bucks School District).
Family/Hobbies:  Ian lives in Anington, PA, with his wife, 2 boys, mother-in-law, and their dog.  He enjoys cooking (he makes an AMAZING homemade pizza!!), going on road trips, and arranging a cappella music.
Favorite Musical Artist:  Continuing Class Act's streak of diverse musical influences, Ian lists the following artists as his favorites:  The Beatles, Beach Boys, Weird Al Yankovic, Billy Joel, Paula Cole, Van Halen, Boston, Jason Mraz, and Phil Vassar
Fun Fact:  One of Ian's favorite road trip memories is visiting "The Biggest Ball of Twine in Minnesota." (NOTE - this is a real place that was immortalized in a Weird Al Yankovic song!)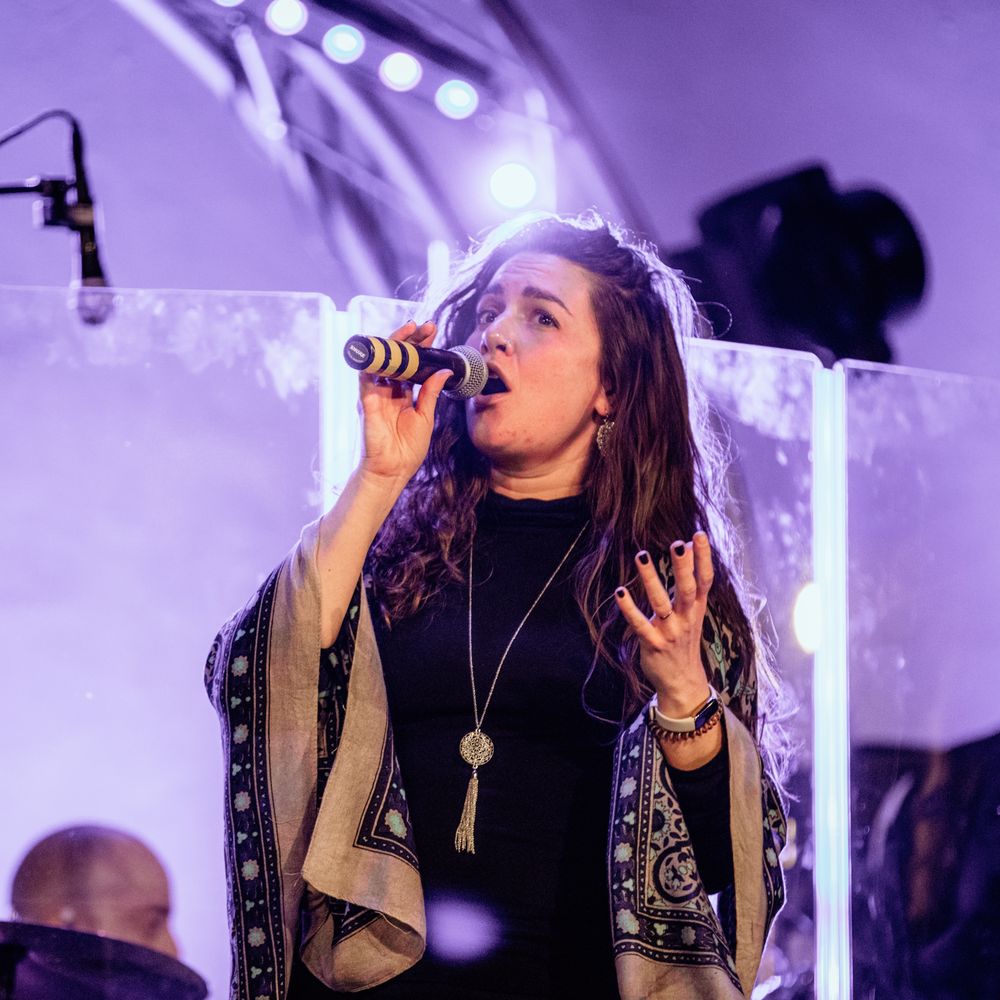 Amanda Kelly
Vocals
Education:  Amanda attended Central Bucks High School South and went on to attend Temple University, where she earned her degree in Music Education with a Vocal Concentration.  She has since received her Masters Degree in Music Education from the University of the Arts.
Musical Bio:  In addition to rokcing with Class Act, you can find Amanda performing with Sister Winter.  This is her acoustic duo she formed with her friend, Sarah Heine.  Amanda is also one half of the talented "Kelly Collaborative," and enjoys performing with her husband, Sean (a founding member of Class Act!!).
Day Gig:  Amanda teaches music and choir to first through sixth graders at elementary schools in the Central Bucks School District.
Family/Hobbies:  Amanda and her handsome husband enjoy traveling together, going for walks, and watching TV.
Favorite Musical Artist:  Regina Spektor
Fun Fact:  Amanda has a handmade greeting card business called Greets Card Company! You can find her cards at local craft markets and shops, as well as on Etsy.